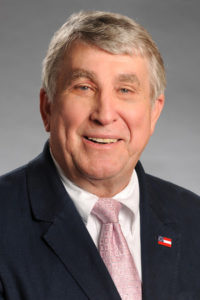 Glenn Baker married Janice, his high school sweetheart, in 1966. Glenn and Janice have made their home in Clayton County, and have two children and three grandchildren.
Glenn's willingness to serve directed his career at Georgia Power for 35 years until he retired in 2001. During his tenure there, he was selected to participate in the Loaned Executive Program with The United Way. These opportunities gave him exceptional experience in business planning, project management, customer relationships and public speaking. Over his career, he gained valuable expertise in large scale, civic planningwhile working with Central Atlanta Progress and The Atlanta DowntownImprovement District. Building a real sense of community drove him in his duties as President of Lake Spivey Community. The importance of serving the sick and needy directed his efforts while on the Board of Directors for the Clayton County Cancer Society and as a volunteer for the Georgia Transplant Foundation.
In 2008 Glenn was elected to the House of Representatives to represent the citizens in District 78. He served two terms there, during which time he served on the following committees: Appropriations; transportation; utilities, energy and telecommunication; economic development; agriculture; and game and fish.
Since leaving the legislature, Glenn is affiliated with Georgia Public Affairs.