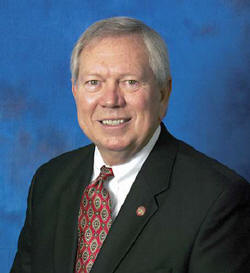 Considered one of Georgia's foremost authorities on politics and state government, Terry Coleman spent 34 years in the Georgia General Assembly. Early in his career, Mr. Coleman became influential in the State Legislature and his political skill and ability developed into key appointments as chair of committees such as Public Safety, Natural Resources and the Environment, and Ways and Means. After serving as Chairman of the House Appropriations Committee for twelve years, he was elected by his colleagues to serve as Speaker of the House. As Speaker, he cast the deciding vote to change the State Flag. He left the legislature in 2007.
After the legislature, Mr. Coleman continued to serve Georgia in the new capacity as Deputy Commissioner for the Department of Agriculture until June 2010. His leadership has led to the creation of new initiatives and methods in the Department, while he was committed to various interests, with special emphasis on international trade, homeland security and legislative and budgetary issues.
He serves on the Board of Trustees of Georgia Southern University; the Board of The Tropics Foundation, whose mission is the financial stability of the Tropical Agricultural research and Higher Education Center located in Costa Rica; the Board of Trustees of the Philadelphia College of Osteopathic Medicine; and on the board of the Dodge County-Eastman Development Authority.
A native of Dodge County, he has a B.S. in Criminal Justice from Brenau University and a J.D. from Woodrow Wilson College of Law. He has been awarded honorary degrees from Mercer University and the John Marshall School of Law.
He is a lifetime member of the Georgia Sheriffs' Association, the Georgia Chiefs of Police Association and the Georgia Firefighters' Association. He was a member of the Eastman Volunteer Fire Department for 23 years and an emergency medical technician for 15 years.
Mr. Coleman is founder of Coleman and Company Benefits, Inc. He is a Life and Qualifying Member of the Million Dollar Round Table, the life insurance industry's most prestigious organization. He also served on the Board of Directors for the Bank of Dodge County and the Colony Bank Corporation until recently.
Mr. Coleman and his wife Carol are members of the Eastman First United Methodist Church and have two children and three grandchildren.