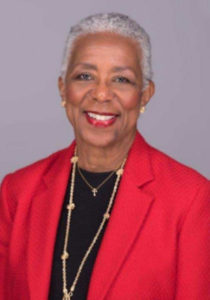 Ryland Needom McClendon is a transit professional with nearly four decades of experience. Her career has included a broad and deep portfolio of experiences as a policy maker, transit liaison, and a senior staffer at two large transit agencies.
McClendon has been fortunate to work with some of the civic legends in our community and leading lights in the transit industry. Some of these luminaries include former Atlanta mayors Maynard Jackson and Andrew Young, civil rights icons Mrs. Juanita Jones Abernathy and Rev. Joseph E. Lowery in Atlanta, GA; former mayor Marian Berry, and the late Washington Metropolitan Area Transit Authority (WMATA) General Manager, Carmen Turner, in Washington, DC.
McClendon retired from the Metropolitan Atlanta Rapid Transit Authority (MARTA) in June 2018. She served as Executive Program Manager and Assistance General Manager (AGM) of the Department of Communications & External Affairs. McClendon worked closely with former MARTA General Managers Nathaniel Ford, Sr., Dr. Beverly A. Scott, Keith T. Parker and Interim GM Elizabeth O'Neill.
McClendon joined MARTA in October 2005 and through the years was promoted to AGM for the Department of Communication & External Affairs. In that role she was instrumental in building strong external relationships with the community and government officials, coordinating MARTA's national and local legislative efforts, advancing media relations and enhancing the image and reputation of MARTA. Under her leadership, her team successfully passed legislation leading to billions in transit funding and implemented major marketing campaigns and initiatives which generated positive recognition for the Authority.
McClendon began her transit career at the City of Atlanta in 1973 as the Community Liaison where she coordinated community participation in the communities where MARTA was to be built. This role demonstrated the invaluable importance of citizen participation and has guided McClendon's career path ever since.
McClendon served as the City of Atlanta (COA) MARTA Coordinator during the height of the construction of the transit system. McClendon's office ensured that the transit Authority received the time-sensitive critical permits required to build the rail system. In addition, she advised mayors and city council members and COA MARTA board members on mass transit issues and formulated policy recommendations.
In 1983, McClendon relocated to Washington, DC, where she worked in the District of Columbia Office of Mass Transit and provided policy recommendations to the DC members on the WMATA Board. She later served as Special Assistant to the then WMATA General Manager Carmen Turner. Under Carmen's leadership, McClendon gleaned effective leadership and grace – even under pressure.
Returning to Atlanta, McClendon was appointed to the MARTA Board of Directors by the City of Atlanta in 1990. She was elected Chairperson of the MARTA Board for two years 1991 – 1992, where she set strategic policy direction, served on national and regional transportation governing boards, supported transit funding re-authorization and served as a liaison to local governments and other MARTA stakeholders.
McClendon was the first African American and woman to lead the MARTA Board. She was a member of the MARTA Board of Directors for five years. During her board tenure she served as a National Director for the Conference of Minority Transportation Officials (COMTO) for two years and was a member of American Public Transportation Association (APTA).
Over the years, McClendon has served on numerous non-profit boards and parent teacher associations in the Atlanta community. Currently, her volunteer activities include COMTO, the Atlanta Alumnae Chapter of Delta Sigma Theta Sorority, Inc., and the leadership team at the Warren Memorial UMC.
An Atlanta native, McClendon is a proud product of the public-school system and earned her B.S. degree in Urban Life and her Master's degree in Public Administration from Georgia State University. McClendon grew up riding transit and remains a regular rider of the system – one that she has been instrumental in shaping – and remains a steadfast supporter of improving mobility and accessibility for all.
Ryland and her husband Raymond McClendon are the proud parents of four children and three precious grandchildren.